We recently celebrated our daughters fourth birthday! She requested a Moana theme, and I wanted to share some of our Moana birthday party ideas with all of you.
Moana Birthday Party Ideas
I love throwing big birthday parties for my kids. It's fun to pick out a theme together and then plan decorations, food, and entertainment. When we saw Disney's Moana a few months ago, our whole family fell in love with the story and the music. I was certain Harper would choose a Moana theme for her party and I was right!
As a gift, we ordered her a Polynesian Princess dress from Little Adventures (you can also get it on Amazon). I can't begin to tell you how excited she is about her Moana dress and it's so much better quality than others on the market! Plus, it's machine washable. She HAD to wear it for her party.

Moana Party Decorations
Decorations are always the first place I start when planning a birthday party. Because Moana is still fairly new, there aren't many store-bought products available yet. That's fine with me, because I like to make my own anyway! I decided on coral and mint as our main colors with beachy, bright accents. We made giant tissue paper flowers and put photos in the middle from each year of our daughter's life (starting with birth). These went above the food table in the kitchen!

I love the ocean (as you can guess by our previous Finding Dory and Nautical theme parties!) so I thought a coral reef wall would be a fun touch. We taped crepe paper to the wall and twisted them upwards-super simple and something our daughter was happy to help with!

I grabbed some cheap shells and sea stars for little accents on the cake and food tables. Because I didn't want to be stuck with all the shells after, I let each kiddo pick out a few to take home. They really enjoyed choosing some of their favorites! (Sorry, parents 😉 )

Next, we planned the cake. I have to be honest-I'm not much of a baker, especially when I have a list of other things to do to get ready for a party. Ordering a theme cake from our local bakery is much simpler for me. Plus, I can always guarantee it will be delicious!

If you do like to bake, you can find these exact Moana accents from Amazon!
Moana Party Game Ideas
I like to plan games for the kids who come to our parties, and I had a couple ideas this time around. If you've seen Moana, you will remember HeiHei the rooster! He is unforgettable, and one of our favorite characters in the movie. I bought a piece of white tag board and drew him, then colored him in so we could play 'Pin the Tail Feather on HeiHei'.

Our daughter had fun helping me color the crazy rooster. I grabbed these mint and coral decorations from our local Target but you can buy something similar here. Then I cut feathers out of teal cardstock and wrote each child's name on their feather as they had a turn. The kids had a blast! 

Our next game was really simple. I bought three coconuts and we had the kids try to roll or throw the coconuts into a hula hoop in the yard. We were surprised by how long they were entertained by the game, and how it was even a challenge for the older kids!

The last planned activity we had was a volcano! We made the volcano out of Papier Mâché and painted it ourselves. It was a blast to create and the kids LOVED watching it erupt! 

Check out the FULL POST for instructions on how to build you paper mache volcano. The kids had so much fun watching the 'lava' that we did it over and over until we ran out of supplies.

Moana Birthday Party Food
We thought a tropical luau meal would be appropriate for a Moana party. Shredded barbecue chicken sandwiches were our main course with lots of fresh fruit on the side.
One of my favorite details of the party were the Heart of Te Fiti Jello rolls. A friend of mine had made these marshmallow pinwheels for a previous party, and I thought they looked just like the Heart of Te Fiti from Moana!
They're so simple and are a real eye-catcher! I used Jolly Rancher Green Apple gelatin mix and made four batches for our party. See the FULL POST to make these Heart of Te Fiti pinwheels here.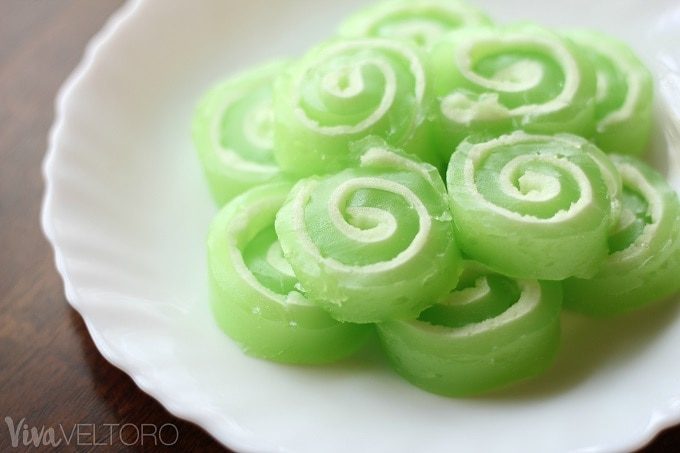 We also made sand dollar sugar cookies after being inspired by this post! However, I didn't make the cookies from scratch because (see above) I'm not much of a baker. I grabbed two packs of Pillsbury Ready-to-Bake Sugar Cookies. Then I made them according to the package and put slivered almonds and cinnamon and sugar on them while they were still hot. I think they turned out cute!
 After we ate and opened gifts it was time to hand out the favors! I really enjoyed putting together these favor buckets and I hope the kids have fun playing with them at home.
Each child got to take home:
Other Moana birthday party supplies:
Moana Birthday Cake Topper Set
Moana Birthday Party Pack 16 PACK + BONUS
Disney Moana Tattoos - 75 Assorted Temporary Tattoos
Disney Moana's Magical Seashell Necklace
36 Tropical Hawaiian Luau Flower Lei
Disney Moana Party Supplies Party Pack (16)
Inflatable Palm Tree Cooler
Moana Voyagers Cupcake Rings - 24 pc
Overall, the party was a hit and we all had a great time! Most importantly, our daughter absolutely loved having her friends over and playing with them.
Do you like these Moana birthday party ideas?
I'd love to hear from you in the comments!
If you liked this post, you may enjoy our other party posts:
How to Make Heart of Te Fiti pinwheels.
How to make a paper mache volcano
Finding Dory Party Ideas and Step2 Finding Dory Water Table
Inside Out birthday Party featuring the Step2 WonderBall Fun House!
Our Superhero Birthday Party with Everfan Superhero Capes!
25 Adorable First Birthday Party Ideas!
How to Host an Awesome Murder Mystery Dinner Party
Disclosure: Amazon links are affiliate links.