A shimmering pale pink to compliment any complexion. Rosé Tieks ballet flats have hit the Boutiek and I've got a closer look at these metallic beauties.
When Champagne Tieks dropped on Black Friday weekend a few years ago, people went nuts for them. As with all Black Friday releases, they were only available for that weekend and once they're gone, they're gone (however, Tieks did their fans a favor by re-releasing them for New Year's Eve a few years later so newer Tieks girls could get their hands on them, but that was for a limited time too). If you missed them and still have FOMO, now is your chance to capture a little bit of that magic. Rosé Tieks are a new edition to the Boutiek and they're a really close nod to Champagne with a subtle hint of burgundy.
If you're new to Tieks, you'll want to check out my full Tieks review to see why I adore these designer flats and get a glimpse of what's in a Tieks box. Unpacking your new flats is quite the experience, but I won't get into that here since I've showed it off in my Tieks review video too. I love these flats so much, I've acquired quite a collection and can help you choose the perfect pair of Tieks with all of my side-by-side comparison photos too.
Rosé Tieks
Are Rosé Tieks true to size?
Now, back to Rosé. Like most of my other Tieks, these run true to size. I ordered a size 9 (I'm usually an 8.5 or 9 in most brands) and they fit like a dream. The soft, supple leather molds to your feet. They felt wonderful right out of the box. The only exception to sizing for me is with some pairs of Vegan Tieks and with Mojave Tieks.
What kind of leather are they?
Rosé Tieks are made of 100% premium full-grain leather and feature that non-elasticized, cushioned back that Tieks fans know and love. I love the shimmery finish of metallics and think they're easy to dress up or down, depending on the occasion.
The pale pink shade will likely blend well with a lot of skin tones and might be a perfect neutral for you.
My favorite way to wear Tieks is with skinny jeans and a casual sweater or t-shirt. But, I'm positive that Rosé will be on-point for any occasion. These would definitely be suitable for formal attire with a cocktail dress or great for a date night with a pretty sundress.
As with all of my Tieks, the things I usually love most is the blue bottoms. The signature Tieks Blue coloring is so distinctive and you can instantly recognize "Tieks in the wild" thanks to those blue soles and Tieks Blue stripe on the back.
Side-by-side photos of Rosé Tieks
My side-by-side comparison post is getting super long (but you really should check it out!), so I'm going to include some side-by-side photos of similar colors here for easy reference.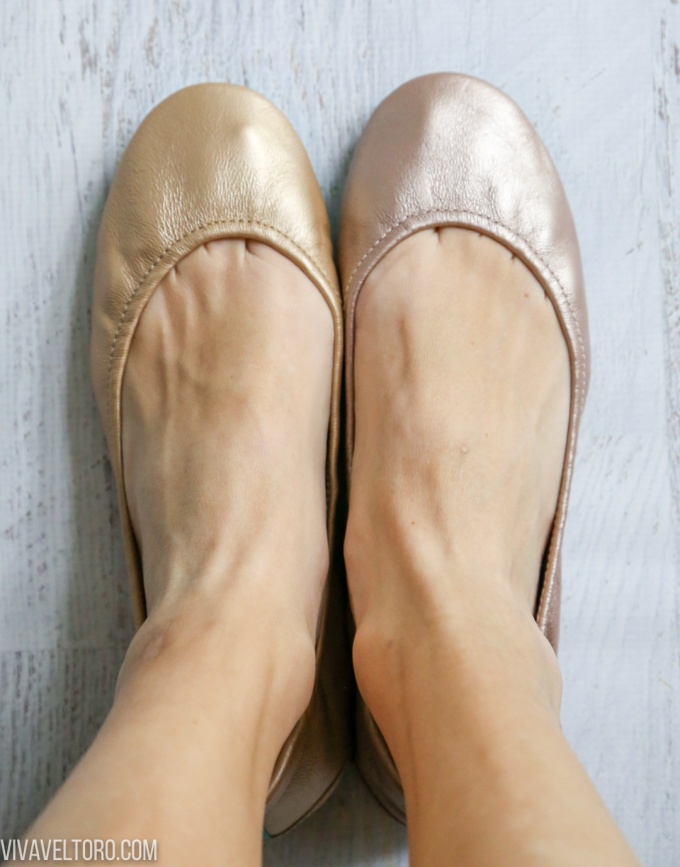 Champagne Tieks on left, Rosé Tieks on right
Rose Gold Glam Tieks on left, Rosé on right
Lovestruck Tieks on left, Rosé on right.
I figured those would be the most popular, but I've got lots of other color comparisons in my Rosé Tieks video embedded below. Check it out for an even closer look at these shimmery flats and for color comparisons with Ballerina Pink, Cotton Candy Tieks, Lovespell, Razzleberry Tieks, Metallic Gold, Champagne Tieks, Rose Gold Glam and more.
Rosé Tieks Video
Will you be adding Rosé to your wardrobe?
Let me know what you think!