Tieks have been around since 2008, but I've only been wearing them since 2015. Once I started diving into the colors and collecting them, I realized I was missing out on a few! I discovered there were some hard to find, rare Tieks out there and figured other people might want a comprehensive list of discontinued Tieks flats.
If you're a Tieks addict like me, you probably have a handful of pairs. I've amassed a collection of over 40 pairs at this point (click on the link to see my collection of Tieks shoes with lots of side by side photos). I'm quite happy with my current collection, but I'm always on the hunt for retired Tieks in my size. Ahem, that's a size 9 if you've got any!
Discontinued Tieks
Some colors have been around since the beginning, but other colors and prints have come and gone (sadly!). All of the photos that are not my own and watermarked are courtesy of Tieks or fellow Tieks addicts who granted me permission to use their photos. Without further ado, here is a list of discontinued Tieks.
Giraffe Tieks are highly sought after. These fuzzy, lightly patterned flats are adorned with hair and have a very subtle giraffe pattern.
Desert Croc Tieks can easily be confused with Alpine Grey Crocs, but they're slightly more yellowish in color. They're sort of a sand color. The photo on the right shows a pair that I had so you can see the pattern and color up close.
Alpine Grey Croc Tieks are another rare find. They are a more icy grey color than Desert Croc but share the same pattern. I would love to find a pair of these.
Merlot Lizard Tieks are almost impossible to find. They have a deep wine-colored scaley print.
Merlot Lizard photos courtesy of Sara K.
Ruby Red Croc Tieks are very similar to Slate Grey Croc or Sienna Brown Croc pattern-wise. They have the same Ruby Red Tieks coloring we love, but the print is croc instead of the smooth patent finish that Tieks is offering now.
Ruby Red Croc photos courtesy of Sara K.
Neon Tieks were a hit after they were released in 2012 and many people begged Tieks to bring them back. They finally got their wish in 2017 and all four colors were re-released at $195 each.
Outrageous Orange, Unmellow Yellow, Galactic Green and Pop Pink Tieks came back to the Boutiek in the summer of 2017 for a limited time. I have an entire post devoted to neon Tieks, so check that out for more shots and styling. To see all of these colors compared with other classic colors, check out my side by side comparison post. I've also got a video embedded there so you can see them "in-person".
The only color that remains on the website is the most popular of the colors, Pop Pink.
One thing to note, the neon Tieks of 2012 included Unmellow Yellow and Outrageous Orange with a faint croc pattern, unlike the smooth patent finish of the 2017 release.
Unmellow Yellow 2017 on left, UY from 2012 on right (photo courtesy of Sara K.)
Outrageous Orange from 2017 on left, OO from 2012 on right (photo courtesy of Sara K.)
Champagne Tieks were the first Black Friday release that was only available for a short period of time (over Black Friday weekend in 2016). They are a softer, lighter gold color (compared to Metallic gold) and have just the perfect amount of shimmer. They retailed for $195 and came with a coordinating Champage flower.

Red Diamond Tieks were the Black Friday weekend release for 2017. They sold out quickly, and for good reason. They're gorgeous! They're lighter than Ruby Red and brighter than Cardinal Red, plus they have just a touch of added shimmer with their patent finish. They retailed for $195 and came with a jewel-encrusted coordinating red diamond box topper.
Raspberry Truffle Tieks were the Black Friday release of 2018. They also sold out quickly and are a beautiful mix of Chocolate Brown and Burgundy.
Love Potion Tieks were a special release for Halloween in 2018. They are a lovely mix of Lovestruck and Moonstruck.
Poppy Tieks are only available during Poppy season, which is usually around April until sometime within the summer/early fall. They were originally released in 2016 and then returned for 2017. According to the Tieks website, Poppy Tieks will not bloom in 2018, but may return in 2019. They were available for $175 and for their 2017 release they came with a coordinating Poppy flower box topper.
Toscani Tieks were discontinued in 2017, although they're still listed on the Tieks website. They are hand-painted and inspired by the beauty and artistry of Tuscany. Each pair was unique. They were priced at $345 and are truly a work of art.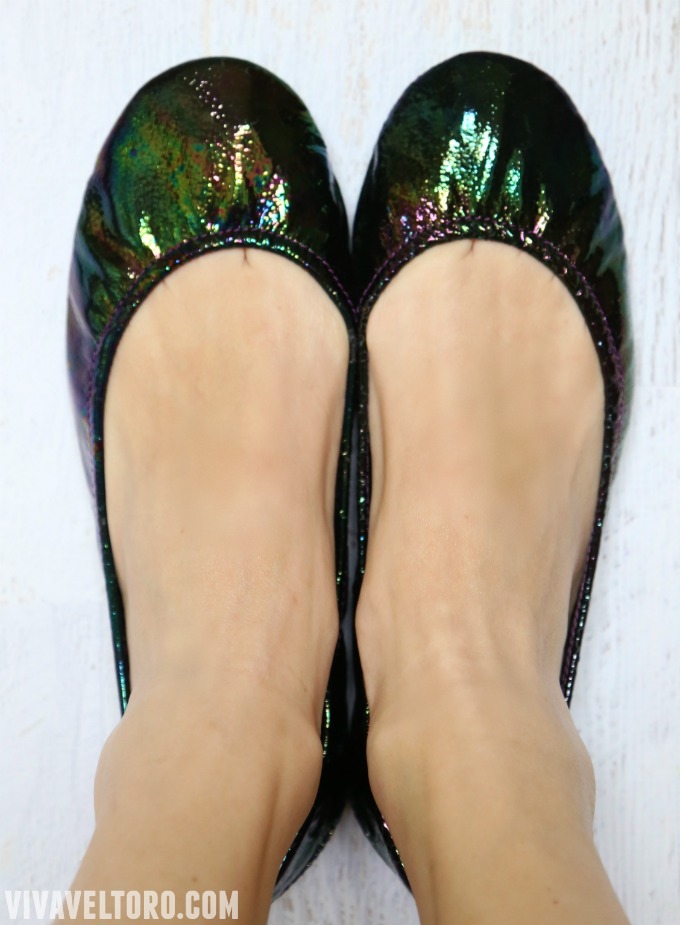 Arabian Night Tieks were originally released in January of 2016 and have since been retired. These color-shifting Tieks were customizable so that you could order based on a sliding scale (from A to E, with A being the least amount of color variation, and E being the most). These also retailed for $345.
Rose Garden Tieks are said to be retired, although there are still some for sale in limited sizes on the Tieks website. They retail for $295 and are using hand-stitched flower petals to create roses on a full-grain Italian leather base.
White Rose Tieks are also said to be retiring. They are also limited sizes still available on the website.
Which discontinued Tieks are your favorites?
I'd love to hear in the comment section!
Be sure to also check out my full review of Tieks, how to take care of your designer ballet flats, how to polish your Tieks (with color matches), how to add moleskin to your flats, and my various other Tieks posts.