Here is a look at my experience with the Pottery Barn Banks Dining Table and the Banks Buffet. I paired these pieces with the Pottery Barn Hayes Tufted Upholstered Dining Chair for warmth and comfort and the Eagan Large Multipanel Mirror.
When we built our home a few years ago, we decided to invest in high-quality furniture that would last. We'd been renting for years and always had cheap or hand-me-down furniture. Once we laid down roots, we knew it was time to get exactly what we wanted.
Once I started shopping online for different pieces, I couldn't get the idea of the Pottery Barn Banks Extended Dining Table out of my head. It was absolutely gorgeous, but a bit pricey. I store after store to find a table that was less expensive, but I kept coming back to the Banks Dining Table.
At the time, the Banks Dining Set was a newer model and I couldn't find any real-life photos. I just wanted to see what the set would look like in a real home but couldn't find one. That's why I decided to share my photos here, in case anyone else wanted to see the pieces in a real person's home.
Pottery Barn Banks Dining Table
After contemplating cheaper alternatives, I bit the bullet and ordered the Banks Extending Dining Table in grey wash, the Banks Buffet, and several other Pottery Barn pieces (in fact, almost all of the furniture in my home is from Pottery Barn and I'll be sharing different rooms with you). I love this table so much that I even bought the Banks Round Pedestal Extending Dining Table for our eat-in kitchen area. You can see a full post about my kitchen dining space too.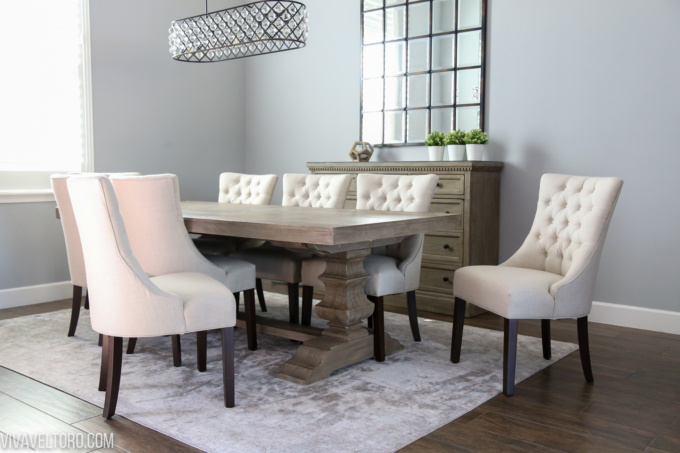 The Banks Dining Table comes in two different sizes: 76" long that extends to 112" and 92" long that extends to 128". I chose the 92" table since I have a larger family and thought I could use the extended space in the future. Pictured here is the 92" Banks Table without the drop-in leaves. I love the way the table fits my dining space, but I probably could have bought the 76" and just added a leaf or two.
This planked tabletop is so sturdy and hearty looking. It's rustic, yet elegant. Especially when paired with the Hayes Tufted Upholstered Dining Chairs. You can order the chairs in over 80 different fabric options and with either espresso or grey wash legs. I chose the Pebble Sunbrella® Performance Slub Tweed with espresso legs. The fabric is engineered so spills simply bead up and you can blot them with a damp cloth.
Originally, I thought these dining chairs were out of my price range (since they range from $499 to $649 per chair). Luckily, I was working closely with one of Pottery Barn's designers. She contacted me immediately when a special order fell through and 8 of these beautiful chairs were delivered to her store. I was able to purchase them at a discount and I'm so happy I did. They are beautiful!
I also purchased the Banks 60" Buffet in grey wash. Not only does this sideboard look amazing, but it's also got a ton of storage space. It's got three top drawers and adjustable shelves behind the bottom pair of faux-drawer overlays. Like the matching table, this piece just screams quality. There is also a Banks 42" Cabinet Buffet if you're short on space. I took away some of our personal pictures and decor items
Hanging above the Banks Buffet is the Pottery Barn Eagan Multipanel Large Mirror in Bronze Finish. This beauty measures 44" by 55" is a stunner. You can hang it vertically or horizontally. I chose to hang it vertically since we have such high ceilings. Again, I kept coming back to this mirror. I wanted to find something a little cheaper, but nothing could compare to the look and quality of Pottery Barn.
The only place I did cut corners in this room was the light fixture and rug. I wanted an expensive lighting fixture from Restoration Hardware but found a very close match in the Edvivi Azha 5-Light Oil Rubbed Bronze Oval Chandelier With Crystal Spheres. It was only 10% of the price of the RH fixture and it looks great in the space. I did have to order additional chain length from the manufacturer since our ceilings are over 12" high in this space. The rug was a beige medallion rug from RugsUSA. I'm not sure that they have that exact size any longer, but I've made several purchases from them and have always been pleased with their rugs.
I hope this post helps you decide if the Banks Dining Collection is right for you. See my Pottery Barn Banks Round Pedestal Dining Table and Bradford Chairs too. Check out my son's Pottery Barn Kids Star Wars Bedroom and my Pottery Barn Living Room featuring the Pottery Barn Pearce Sectional.