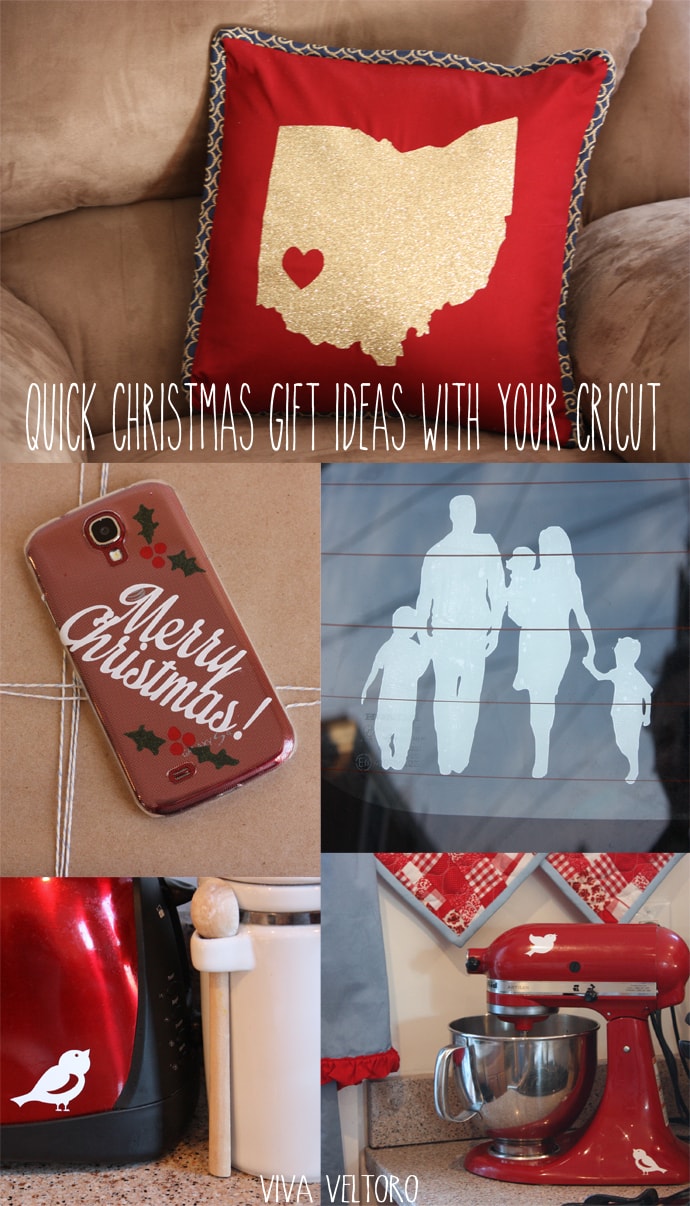 The hunt for the perfect gift can be tough, especially when you want to give something personal and unique. I've got a few ideas that you can whip up with your Cricut machine, and in no time at all if you're under a time crunch! These Christmas gift ideas are quick to make and meaningful in nature, which is really what I'm shooting for at this point in the holiday season!
My first gift idea is to make a festive cell phone cover! Choose a swirly font in the Cricut Design Space in a size that will fit on your phone case. This is a font called "Impregnable" with the full phrase sized to about 6.25". I actually made this up in Photoshop, saved it as a jpeg, and uploaded into the Cricut Design Space as an imported picture. Feel free to copy this and use it as a template to do the same!
Clear phone cases are easy to find on both Amazon on eBay. I bought a few, hard and soft, for $1-2 each. I decided to use a hard case for this project so that the nail polish didn't have to dry on a flexible surface. Make sure you select "mirror image" if you want this to go on the inside of your case.
I debated about whether to add the holly on the inside or outside, based on how I thought it might scratch off or be difficult to fit underneath the case. Ultimately, I chose the inside and it didn't need more than one coat. No need to put on a top coat if the polish is inside the case.
Snap it on, and look how festive you are!
This next idea of giving a handful of appliance and household vinyl decals takes no time at all and it offers the gift-receiver the opportunity to customize what they want and where. There are a number of bird options in the Cricut library to choose from.
I had them cut very small so that they would fit in small spaces, like the sides of the toaster and the mixer. You can also use these little birdy decals to sit atop of a picture frame!
This next idea is great for families! Those back windshield vinyl families are so popular right now, but I really wanted to make ours "us", so I made a compilation of shadows that resembled our family members.
The Cricut has no problem attacking these intricate spaces, and the result is just what you see on the design board. Remember to select "mirror image" for this as well, if you'll be adhering it to the inside of your window!
Slap it on and press with a credit card or a plastic squeegee board. I hear you'll get the best results at room temperature, so if you can help it, try applying while the car is in your garage, or after the windows have been warmed up after a drive. No garage for us, so I probably looked like a crazy lady to every pedestrian who walked by seeing me sitting in the trunk, bundled up, and scraping vinyl onto the windshield.
The last Cricut project is great for your in-laws, your parents, or your child at college! I used a template of the state of Ohio and eliminated the shape of a heart where my home is. I used glittery gold adhesive vinyl for fabric and applied it to a cotton square. From there, I added cording and a back and filled it with a pillow form. So easy, so fast, and very personalized!
Enjoy whipping up your own Christmas gifts this year using your Cricut!