If you've been following along, I've been receiving a Nadine West subscription box for a few months now. I wanted to share my most recent package with you as well as recap what kinds of items you can expect with a Nadine West subscription. Also, you can receive your first Nadine West subscription box with the shipping fee waived, and I'll be sharing how below! I've partnered with Nadine West to share my shipment with you, and as always all opinions are my own.
Nadine West Subscription
When it comes to fashion, I tend to struggle a bit. I can never find the time to go shopping for myself, and if I do I always have the kids with me. It's not fun to try on multiple outfits while attempting to keep them occupied in the dressing room. I've found my Nadine West subscription to be the perfect option for busy moms like me, because of the convenience of having fashion shipped to my door. I talked a little bit about what you get with a Nadine West subscription, but in case you missed it here's a quick recap:
You fill out a style quiz describing the clothing, jewelry, and accessories that fit your personal preferences
A stylist curates 5-9 pieces for you and ships them directly to your door
You pay a small fee for shipping which you deduct from any pieces you decide to keep from your shipment
You ship whatever you don't want to keep back to Nadine West, free of charge
If you're brand new to Nadine West, you can try your first shipment for free with the code NADINE. You won't pay shipping and you'll still get a bright pink bag including a variety of clothes, jewelry, and other accessories. Whatever you like, you keep and get charged for. Just send back what you don't want, and fill out the survey so next month's shipment can be even more suited to you! 
Want to see what I received in my latest Nadine West shipment? I'm excited to share it with you! This was one of my smaller shipments, at just five pieces. Even still, I'm so excited when my pink package arrives each month.
Nadine West Contents
The first item I received was this Tony dress. Now, it is a strapless dress but considering our highest temperature last week was -14 degrees Fahrenheit I decided to wear it with a crop cardigan to make it a little more weather appropriate. I really like the design of the dress and it's a very comfortable material. I could see myself wearing this in the spring or early fall. It's $26.99 to keep.
The second item I pulled out of my bright pink bag is this Cross Back top. It's a nice neutral pink color and I like the criss-cross design in the back. I did find the sleeves to be a little bulky. The arm material runs perpendicular to the shoulder which is a bit different. That being said, it's a comfortable lounge top and rings in at $26.19.
I received one piece of jewelry this month but they're some of my favorite earrings from Nadine West yet! These Trixie earrings are only $12.99 and as you can see they're adorable little silver leaves. They're very lightweight and go with any outfit.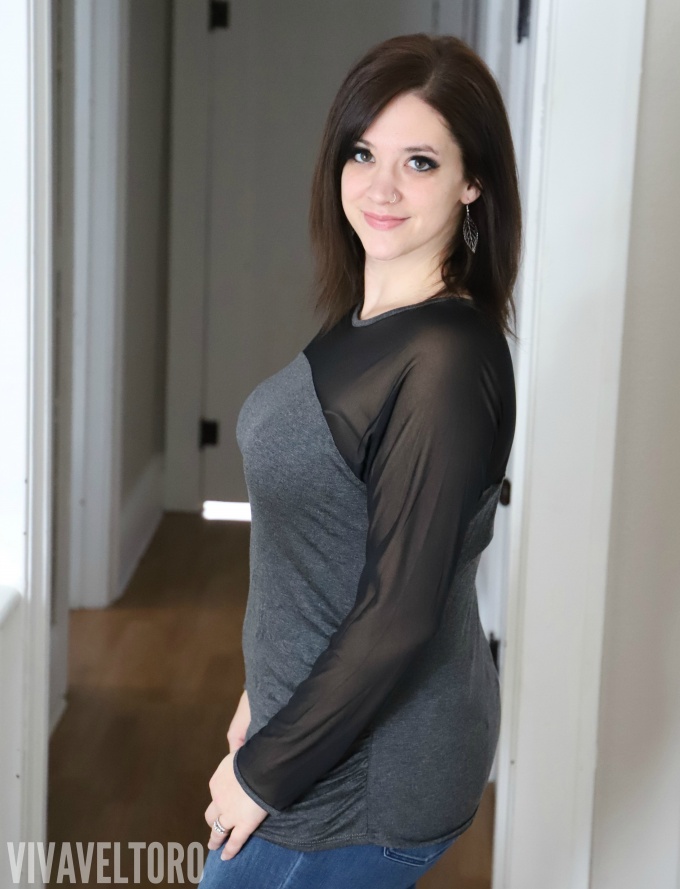 This Chloette top has some pros and cons for me. While I love the side ruching and that the sleeves are ample length, the top is sheer which means I have to wear a strapless bra. I'll be honest; these girls need more support than a strapless bra can give, so I don't wear one often. However, I do like the rest of the shirt so I may have to make an exception and find a strapless bra. This top is $26.99 to keep.
While initially I didn't love the Missie skirt, it's grown on me! I love the floral pattern, but I've never really worn skirts because I haven't known what type shirt to pair it with. Now that high-waisted bottoms are coming back in, the option to tuck in a shirt makes it more likely for me to experiment with skirts. I love the ruffles at the bottom of this skirt and I look forward to trying it out when the weather gets a bit warmer! At $19.49 this skirt is a keeper for me.
While my shipment was smaller than usual, I was really happy with most of the pieces. I love that the Nadine West stylists know whether to size up or down depending on the item. I have yet to get anything that's really off size-wise. Also, if you're like me, you'll be surprised by items you wouldn't have chosen for yourself! Don't forget, you can try your first shipment for free with the code NADINE at checkout!
What was your favorite item from my Nadine West subscription this month?
I'd love to hear in the comments!
Disclaimer: I received these items at no cost to facilitate an honest review. As always, all opinions are my own.