The Big Game is right around the corner! Adding a few game day decorations to your table can really add some fun to the event, especially if you have a crowd coming over. Here are some very easy and quite inexpensive ideas that you could whip up before the game!
The first and easiest way to dress up the food table is to roll out a sheet of butcher paper and grab a sharpie.  If butcher paper is hard to find, basic mailing paper works great and can be found among mailing supplies in stores.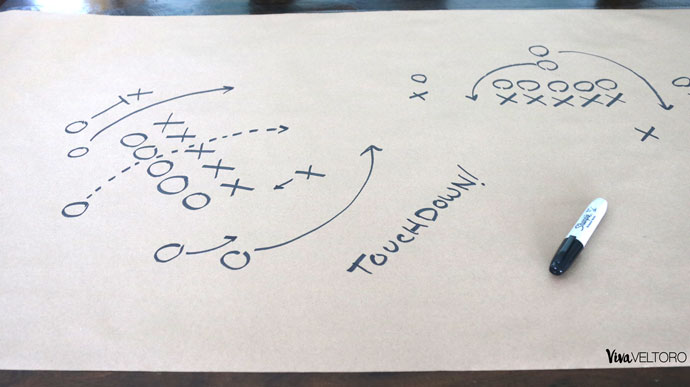 Fill it with pretend plays, positions, cheers, arrows, and whatever you'd like!
Next up, this football banner is also a great decoration for the wall, the table, the porch, anywhere!
Start by folding a paper into four quarters and trimming off the corner until you get something that resembles the shape of a football. Using that as your pattern, cut out cardboard pieces in the same shape. Using assembled boxes and cutting with a blade works best for me.
Using the same paper pattern, cut out some fabric football shapes, but about an inch larger on all sides.
Next, spray each cardboard football with a light coating of spray adhesive and press onto the fabric. This will keep it secure during the next step.
Now fold over the extra fabric onto the back side and secure with hot glue.
Then dress it up with some white electrical tape!
I strung mine up with hemp string and a dot of hot glue on the back. You could do this same thing with ribbon or colored yarn.
Another idea for your game day decorations is to make mini pom poms for the table!
Foil tissue is perfect for this! I found a package of 12 sheets for $5 at Party City. I then cut the large sheets into quarters that were just over a foot long on all sides. A pile of 4-5 small squares was perfect for these mini pom poms. Feel free to add more sheets and use larger pieces for larger pom poms!
Cut long slits on two ends that go almost to the middle, but leave at least two inches intact so that you can gather that part in the next step.
Gather up the foil by the middle of the pile and tie tightly with cord or string. Gently fluff it full by separating the strands by hand.
For the base, use mason jars and dowel rods spray painted in your team colors.
With the extra string, tie the pom pom to the top of your spray-painted sticks, and place inside mason jars. I like to fill the jars with rice so they are extra sturdy.
And there you have some fun and festive mini pom poms for the sides of your table!  So easy!
Add these ideas to your game day decorations and enjoy the big game!
For more DIY decor, check out our tutorial for how to make fabric bunting and how to make a painted pennant garland.