Quite a few people have asked me about Tieks for wide feet. Are they the most comfortable flats for wide feet? With the help of my friend Noelle, I'm here to let you know.
I have been singing the praises of Tieks for years. I've been wearing these designer leather ballet flats for several years and absolutely love them. In fact, you could say I'm a little obsessed with them. You can see my collection with tons of helpful side-by-side photos in my post about picking the perfect pair of Tieks shoes.
Since becoming a Tieks crusader, I continually field several comments and messages a week about how Tieks fit and whether or not they're comfortable flats for wide feet. I'm going to break it down for you.
Are Tieks the best ballet flats for wide feet?
I don't have wide feet, so I enlisted the help of one of my best friends, Noelle. She has a difficult time finding comfortable flats to fit her wide feet and high arch. I decided to gift her a pair of classic Matte Black Tieks.
Do you know how they say that if you hang around someone long enough, you start looking like them? That's definitely true for me and Noelle. We've got really similar styles and wear a lot of the same things. That's how I knew she'd love Matte Black for her first pair.
Noelle owns a hair salon and is on her feet for hours most days. I knew she would appreciate a cute and stylish pair of flats, and I was interested to hear her opinion on whether Tieks are the best women's shoes for wide feet.
She was immediately impressed with the packaging of her new flats. "How do they fit inside this box?!" I won't go into everything that comes inside a Tieks box since I've covered that before in my full Tieks review. If you haven't ever ordered a pair of Tieks before, definitely check that post out because it's quite an experience. Tieks truly make you feel special right from the start.
Should you size up or size down?
Most women can comfortably size down in Tieks, but if you've got a wide foot, it's recommended to size up. As I mentioned, Noelle is typically a size 6.5 in most brands. Since Tieks only come in full sizes, I chose a size 7 for her, given her wider foot.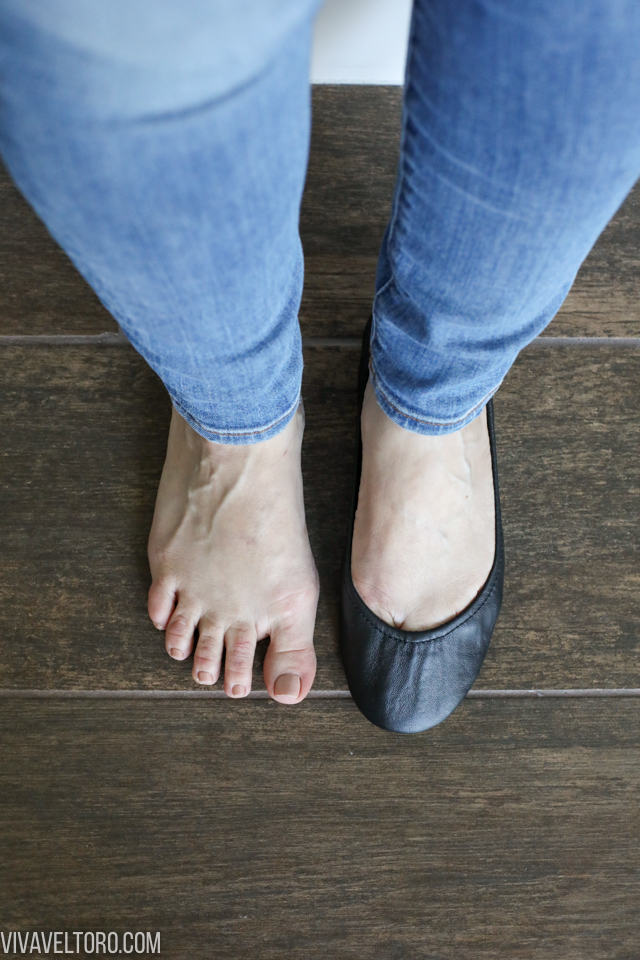 Her first remarks when slipping on her new Tieks were that they felt like slippers. Her first remarks when slipping on her new Tieks were that they felt like slippers. That's the idea. Tieks are hand-crafted for exceptional comfort and durability. They're ultra-flexible thanks to the split sole, and the supple leather stretches and molds to your foot, offering a perfectly unique fit for each person.
I'm on the left in this photo and Noelle is on the right. You can see that we've got two different types of feet, but Tieks fit us both very well.
Each pair of Tieks is stitched to ensure that the edges are smooth, soft, and move with your step. For the majority of my Tieks, there has been no break-in period. They're comfortable right out of the box.
After a few days, I asked Noelle about her honest opinion of Tieks. She said, "You know when you put on shoes and think, 'I'll never last a full day in these.' Not Tieks. They're comfortable and I can stand for hours." That really hasn't been the case for her in other brands of flats, even wide fitting women's shoes.
So, are Tieks for wide feet?
Based on the feedback I've received from Noelle and dozens of other women over the years, I'd say yes. The beautiful thing about these ballet flats is that the shoes form to your feet. The leather will stretch as it needs to, giving you a custom fit.
And, if you need a little extra help in this area, you can check out my post about how to stretch leather shoes.