If you want to preserve your child's handprints, footprints and more, you'll love our salt dough ornament recipe. You can create little keepsakes that you'll treasure for years to come.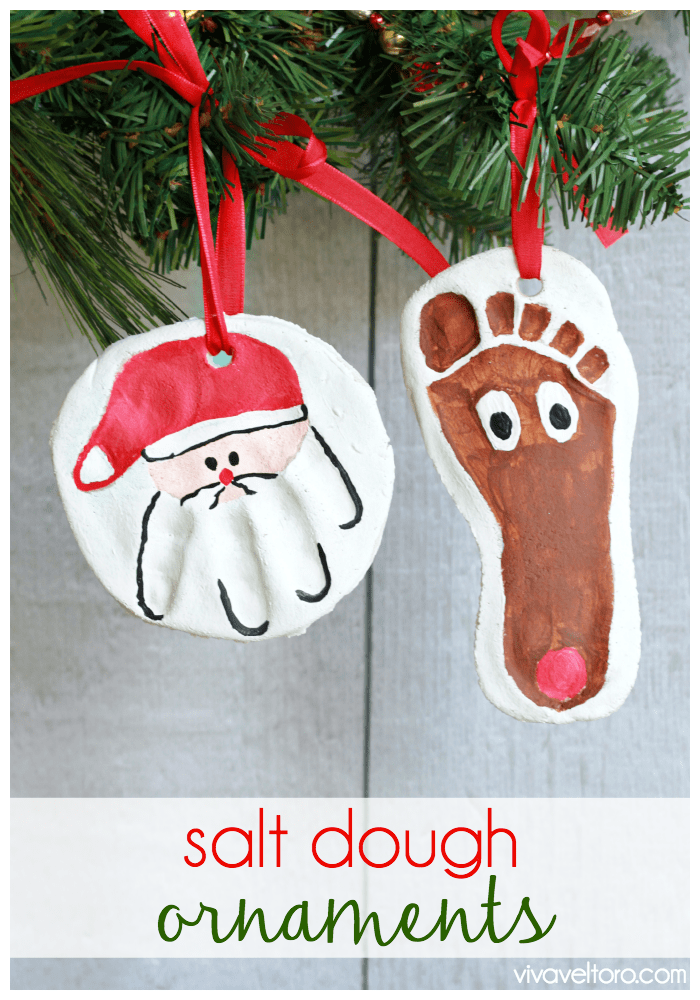 Salt Dough Ornament Recipe
My son's preschool was doing a winter fundraiser where they took the kids' handprints and turned them into little cut-out Santas. They were adorable, but I wanted to be able to preserve his little 2-year-old handprint on something sturdier than paper. That's when I remembered that I'd seen some friends on Instagram making salt dough ornaments. That would be perfect! They are so easy to make and you probably have most of the salt dough ornament recipe ingredients in your pantry (YAY for free crafts!). Since I made a pretty large batch of dough, I got a bit more creative and decided to do a few other ornaments as well, including a super cute Olaf from Frozen, a reindeer, a dove, and even some Teenage Mutant Ninja Turtles ornaments.
Here's what you'll need for your Salt Dough Ornament Recipe:
1 cup of salt
2 cups of flour
1 cup of water
acrylic paint
paintbrushes
ribbon
Feel free to cut this recipe in half if you only want to do about 4 handprints or so (depending on their size of course; you could do a lot more if you're making smaller ornaments).
Directions: 
In a mixing bowl, combine your salt and flour, then start adding your water. You might not need the full cup, or you might need a bit more. You want your dough to be well mixed, but not too sticky or wet. Knead away until it's a smooth dough ball. My little guy loved the kneading part!
Once it's well combined, divide the dough in half or fourths and roll it out with a rolling pin. For my ornaments, I made large circles by turning glass prep bowls upside down and using them as cutters, then had my little guy press his hand or foot into the dough. Here's a tip, when it's time for footprints, line your cookie sheet with a silicone baking mat and put the dough directly on it and place it on the floor for them to step onto. It makes it much easier for everyone. I L-O-V-E the silicone mats - they are SO much cheaper than Siplat brand and work just as well.
Get the supplies: 
AmazonBasics Silicone Baking Mat - 2 Pack

Apple Barrel Acrylic Paint Set, 18 Piece

Paint Brush Set

Feel free to get creative and makes shapes and characters that speak to your family. My son is a Disney fanatic, so I knew he'd love to see Mickey Mouse and Olaf adorn our tree.
Once you've got your ornaments cut out, make sure you poke a hole somewhere on them so you can thread ribbon through to hang them on your tree. That's a pretty important step that you can't do later, so don't forget. I used a straw to cut small circular holes in my ornaments. I ended up with two trays of ornaments - the ones you see above, and another tray with more handprints (gifts for grandparents - score!) and a bunch of small circles to make Teenage Mutant Ninja Turtles ornaments (coming soon).
Once you've got your shapes set, bake them at 200 degrees for around 3 hours. I left mine in for 2.5 hours and thought they were done even though they were slightly tacky on the back side (silly me), and after I let them dry overnight, they curled a bit. That was kind of a bummer - so heed my warning - make sure they've dried all the way through. Once you've taken them out of the oven and let them cool for a few hours you'll be ready to paint them.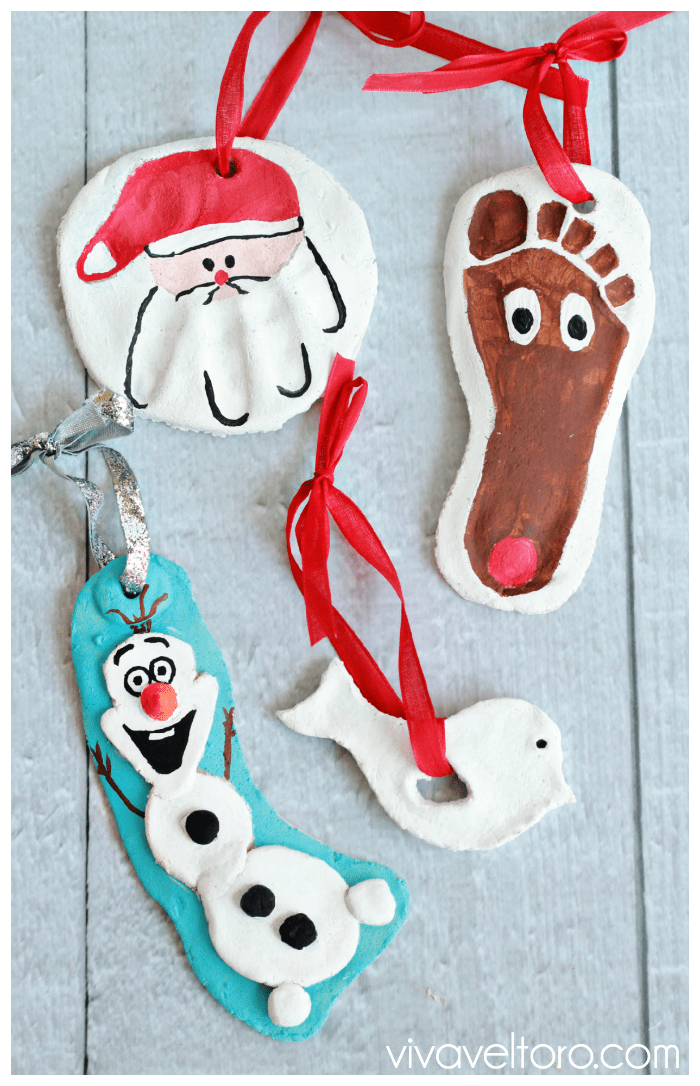 The beauty of making your own ornaments is that you can do whatever you'd like. I wanted to do something to capture my toddler's handprint and footprint, so the Santa and reindeer were perfect for that, but there are all sorts of ideas out there - just do a quick search of "salt dough ornaments" and you'll find tons! I snapped a picture of the cute Santa crafts they were doing at my little guy's school so I just recreated that here, and the reindeer was a spin on something that I had done last year (when I made my hubby a little reindeer card from my cutie).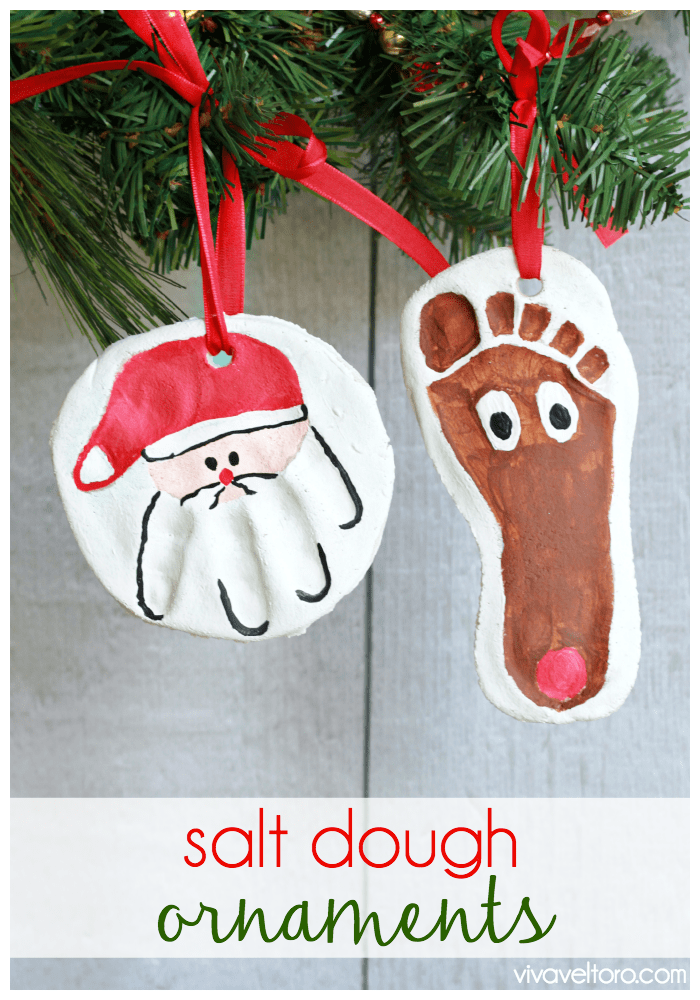 To make my cute little Olaf, I basically just searched for an image of him then freehand designed his body and painted him accordingly. It's good to have a variety of small/medium sized paintbrushes on hand for this to do the detailed painting. I bought a cheap multi-pack, and all the paints were about $0.50 each, so that wasn't too bad at all. You can't really tell from the photos since they're straight on, but Olaf has a nice protruding carrot nose and everything.
 So, what do you think of our salt dough ornament recipe?
Will you be making salt dough ornaments with your little ones? 
Also, check out our Trolls ornaments
And, our Teenage Mutant Ninja Turtle Salt Dough Ornaments too!