My family and I hopped on a plane and headed south to visit Coconut Bay Beach Resort & Spa over spring break. If you're doing your research and looking for an all-inclusive resort in St. Lucia, I wanted to give you a closer look at our resort accommodations.
Since visiting Coconut Bay Beach Resort & Spa in St. Lucia, my kids have been begging to go back. My husband and I were really impressed with the property, and despite some of the buildings being 40+ years old, we felt like the resort was updated and kept up well. There wasn't a day that went by that we didn't see dozens of staff members cleaning, painting, and repairing various parts of the resort. I've already discussed different aspects of our trip in my post about what you can expect when visiting Coconut Bay in St. Lucia, but in the interested of space, I decided to write a separate post to create a photo-heavy review of our room accommodations.
There are several choices when you're planning your vacation at Coconut Bay Beach Resort & Spa. You can choose a room on the adults-only Harmony side of the resort, or you can choose a room in the family-friendly Splash wing. We stayed on the Splash side of the resort (with our almost 7-year-old and almost 4-year-old). You can choose from Splash Premium Ocean View, Splash Deluxe Ocean View, Splash Deluxe Garden View, or Splash Two-Bedroom Family Connecting.
Our room was in the Splash Concierge Premium Ocean View category (on the 4th floor of the resort) and had one king bed and one twin bed with a pull-out trundle.  The four of us had plenty of room to spread out and there was ample space for our things. This room was really perfect for us.
Since we were on the 4th floor, we enjoyed higher ceilings which really made the room for large and airy.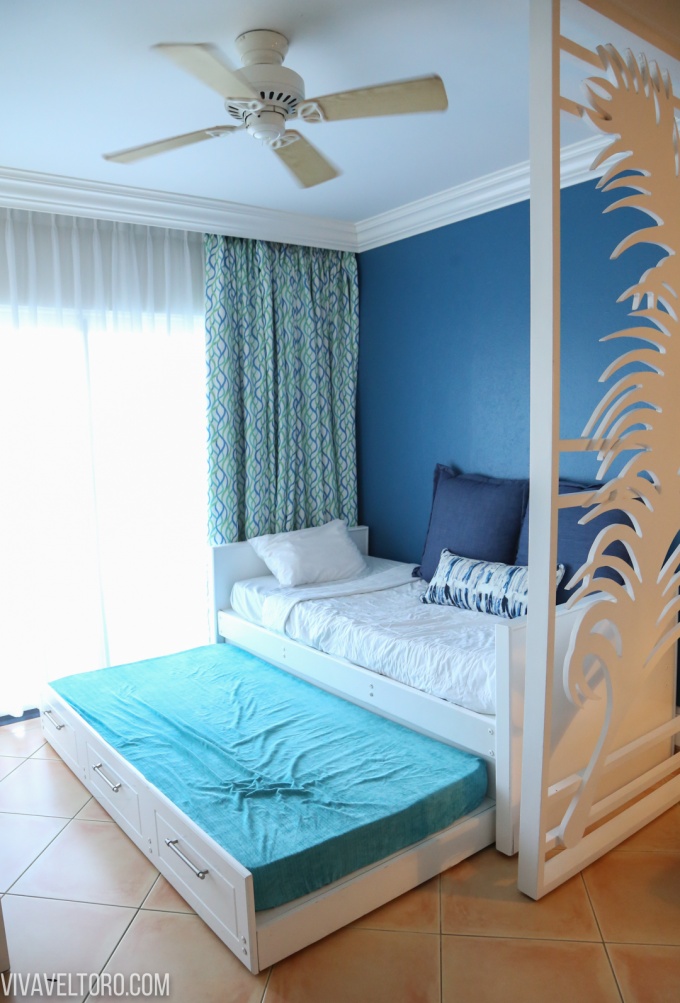 Each room has a cable TV and we were really pleasantly surprised by the selection of channels available. Not that we spent that much time in the room watching TV, but it was nice for those mornings when the kids woke up really early but we weren't quite ready to crawl out of bed yet.
We got a sweet welcome note from our housekeeper Shan and the notes continued throughout our stay. She was very attentive throughout our stay and created fun towel sculptures that the kids loved.
I also loved the fact that the rooms all have mini refrigerators. Ours was fully stocked with bottled water but it was also nice to be able to chill juice or snacks that the kids would bring back to the room. If you do select a concierge level room, your fridge will also be stocked with sodas and local beer & liquor by request.
Concierge level rooms also receive special treats throughout their stay. We were greeted by these handmade chocolates and on other nights were received housemade chips that were really good!
The bathroom was a good size and was very clean. There was a lot of storage space for all of our toiletries and the hooks on the wall were really helpful to dry out our swimsuits and towels.
Our balcony had two seats and a small table so we could sit outside of the sliding glass doors and enjoy the view.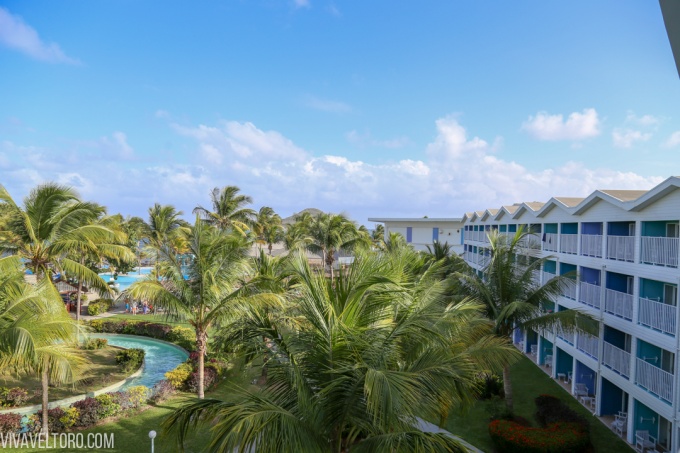 Our view of the CocoLand Water Park
We spent a good bit of time on our balcony taking in the view and amazing weather. It was really a perfect time to visit.
Another thing I wanted to mention was that our room had 100-volt outlets, which was awesome. We heard some of the rooms have 220 volts/50 Hz outlets so you'll want to double check whether or not you need an adaptor before you go. Not only did we have 100-volt outlets for all of our various cords, our clock radio also had two USB ports for charging.
Don't forget to check out my post about what to expect at Coconut Bay Beach Resort & Spa. It's full of great info about the resort and it's got a video with a walking tour of the resort property.