Treating your child's teacher to a wonderful Christmas gift is easier than you might think. I've partnered with Tom's of Maine to give you a few teacher Christmas gift ideas that are sure to please.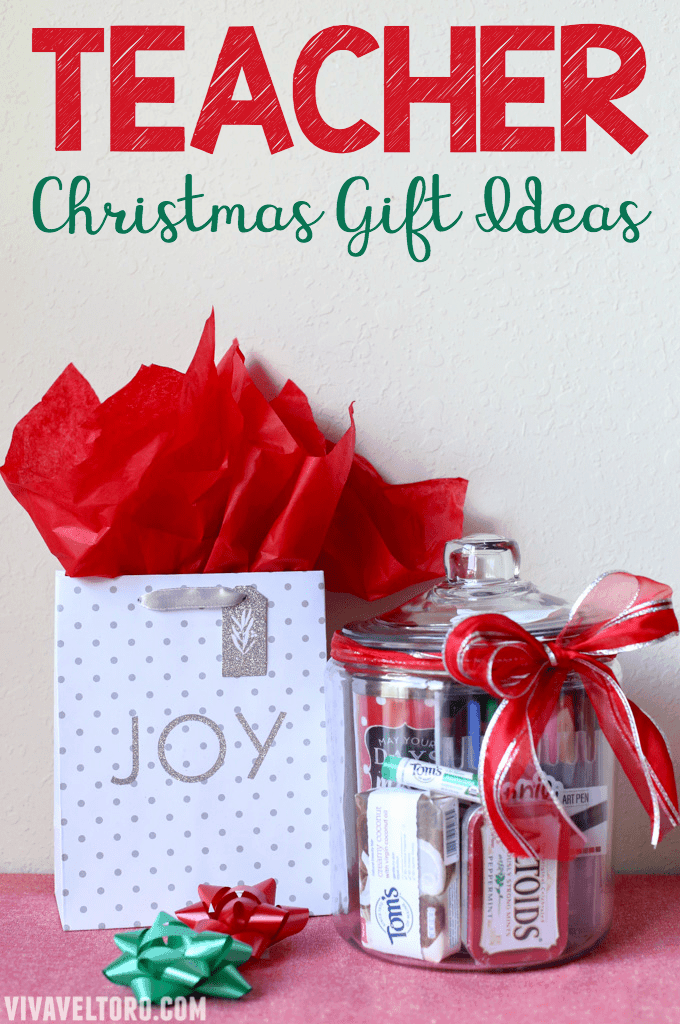 Teacher Christmas Gift Ideas
I have to admit, the idea of teacher gifts was somewhat new to me once my son started school. I don't remember giving my teachers anything special around the holidays when I was a child, but I got with the program pretty fast. I asked the other parents and caregivers what they were getting the teacher and most responded with a gift card. I'm ALL for gift cards, but I also like to give more personal gifts during the holidays.
My kids' teachers are amazing. They seem to have an unlimited amount of patience and set such wonderful examples for my children. Teaching others is not my strong suit so I'm grateful that my kids have these wonderful teachers in their lives. I picked out some items that I thought they'd love and put together little gifts for each one. I hope you find these teacher Christmas gift ideas helpful!
One thing I really like to do is fill a jar or some sort of reusable storage container with small gifts I think the teacher will appreciate. For the beginning of the school year I like to give them gifts for the classroom, but during the holidays I like to make it all about them.
I know this particular teacher enjoys coffee, so I got her a lovely Christmas blend and a cute holiday travel mug. I picked up some mints and got her a package of Sharpie pens because what teacher doesn't love a Sharpie?! I also purchased a few of my favorite Tom's of Maine items from Whole Foods Market so she could pamper herself a little.
I adore Tom's of Maine beauty bars (in fact, I featured them in our Holiday Gift Guide) and the Creamy Coconut formula is my favorite. It's gentle on the skin and contains no artificial fragrances or parabens. It also smells DIVINE! I also love their Organic Natural Lip Balm. Again, it's free of all the things you'd never want to put on your body (like parabens, phthalates, and phenoxyethanol). Tom's of Maine uses USDA certified organic sunflower seed oil, coconut oil, and beeswax to naturally moisturize lips.
Here are a few other teacher Christmas gift ideas that are sure to make your child's teacher smile:
Journals and daily to-do list notepads to keep them organized
Small wristlets or clutch to match their personal style
Whole Foods Market gift card
Cozy socks
Eyeshadow palettes (other makeup can be very shade specific, but palettes are fun for everyone)
Inexpensive jewelry
Lunch bag (I love this one from Thirty-One Gifts)
Gel pens
Favorite candies or treats (check out the Whole Foods Market bakery)
Coffee shop gift card
Movie theater gift card or Netflix gift card
What will you be getting your child's teacher this year?
I'd love to hear your ideas!