How busy is your summer  compared to last year? Ours has been crazy, but in a wonderful way! We're so excited to get back to normalcy and that means throwing a few family vacations and staycations into the summer. There's one place we have visited that our kids constantly BEG to return to, and that's Great Wolf Lodge! I've partnered with Great Wolf Lodge to share about our most recent stay and why it's our favorite family staycation.
Great Wolf Lodge - Bloomington, MN
We live in central Minnesota so the closest Great Wolf Lodge location is in Bloomington which is about two hours away. This makes for a perfect staycation that's not too far from home but far enough that it feels like a destination! Our Great Wolf Lodge allows us to arrive at 1:00 PM the day of check-in and we always take advantage of that. If our room is ready we can check in fully, but if not we can just head to the waterpark with our gear until it is. Luckily for us, our room was ready by the time we arrived!
Great Wolf Lodge Rooms - Queen Cabin Suite
I wish I'd taken a video of our kids' faces when we walked into the Queen Cabin Suite; they couldn't believe that they had their own cabin with twin bunk beds separate from our queen bed! Great Wolf Lodge offers a variety of suites to fit families small to large, and this room is incredible. We had a large bathroom with a separate sink area, the kids' bunk room (with their own TV; icing on the cake!) and a spacious room with a queen bed, table, and chairs.
Our kids, of course, were absolutely thrilled to have their own bunk beds and a TV in their room. The suites at Great Wolf Lodge have such fun themes, and the woodland creatures are an adorable touch.
After checking out our room, the kids were ready to head to the waterpark for a few hours before supper. I love that Great Wolf Lodge's waterparks cater to all ages, from infants to adults. The main area is great for young kids - ours are eight and five now and they still love the small slides and getting dumped on by the big bucket. There are also water cannons and the water is a very comfortable and warm temperature. That's actually true for the entire waterpark; Great Wolf Lodge keeps the water at a balmy 84° Fahrenheit so you never get cold!
As you can see, chairs are set up in groups to allow for social distancing. They also have hand sanitizer stations set up throughout the waterpark and social distancing markers for when you're waiting in line.
There's a huge lazy river that wraps around the waterpark and leads to a wave pool. We always spend a lot of time using these features, and the kids enjoy the small waterfalls throughout the lazy river too. Great Wolf Lodge has plenty of single or double tubes for use or you can go without one if you prefer. There are also two slides that use these same tubes and our kids love going on them with either me or my husband. Great Wolf Lodge also has floaties and life vests for all ages!
Our kids are tall enough to go on the body slides now and I can't count the number of times they went on them this trip. Up the steps, down the slide, over and over and over! The benefit of this is that they can stay busy and also get worn out by bedtime, because you can believe we're all tired by the end of the day!
Tyler and Harper love to do the Flow Rider at Great Wolf Lodge. The line doesn't get very long and the lifeguards are super helpful and encouraging for kids who are a little nervous. There's also a big pool where you can play basketball, a huge family waterslide, and enough to keep you busy for a multi-day stay! We usually try to break up our water park time with other amenities at Great Wolf Lodge, but we do spend the majority of our time in the water.
While you're in the waterpark, you can take advantage of adult drinks from the bar and they also have Buckets Incredible Craveables, a quick serve restaurant with tasty burgers and sides. We had lunch there during our stay and it was so nice that we didn't have to leave the waterpark and change our clothes to eat!
Great Wolf Lodge Dining Options
There are a variety of other dining options on-site at Great Wolf Lodge. I personally love that because after spending a day swimming, the last thing I want to do is get the kids dressed and head somewhere for supper. Along with Buckets, Great Wolf Lodge has Hungry as a Wolf, Northwoods Market, and Campfire Kitchen for lunch and dinner.
We always order pizza from Hungry as a Wolf on our first night at Great Wolf Lodge. The pizza is delicious and they also offer fresh made salads, cheesy bread, and savory sandwiches. We take pizza back to our room after a long day at the waterpark and having that option on-site can't be beat. I order straight from the app and they let us know when it's ready for pick-up. As you can see, our kids love it too!
Northwoods Market offers grab-and-go premade sandwiches and snacks which is perfect for a quick lunch. If you're looking for a sit-down restaurant with great service and delicious food, you'll want to try Campfire Kitchen! They do breakfast and dinner (no lunch) and we try to eat there for dinner at least once during our stay. The food is delicious and includes fish and seafood, filling salads, steak, chicken entrees, and more! Plus, they give awesome light-up cups with their kids meals which you can be Harper and Lincoln loved.
For dessert we always have to get Ben and Jerry's ice cream which is also on-site at Great Wolf Lodge! You can smell the fresh waffle cones every time you walk past, and their flavors are to die for. Adult wristbands at Great Wolf Lodge act as your key card and can be used to pay as well, so we never have to carry around our wallet which is so convenient. You can also charge things to your room.
In the mornings, we either have breakfast at Campfire Kitchen or grab coffee and donuts or breakfast sandwiches from Dunkin' Donuts. Great Wolf Lodge has free kids' activities throughout the day including morning yoga, story time, dance parties, arts and crafts, character meet and greets, and more! Our kids love these free activities and we catch as many as we can in the main lobby or on the second floor at Great Wolf Lodge. The first morning of our stay, Lincoln slept in but Harper and I went to grab Dunkin' Donuts and enjoyed the interactive story.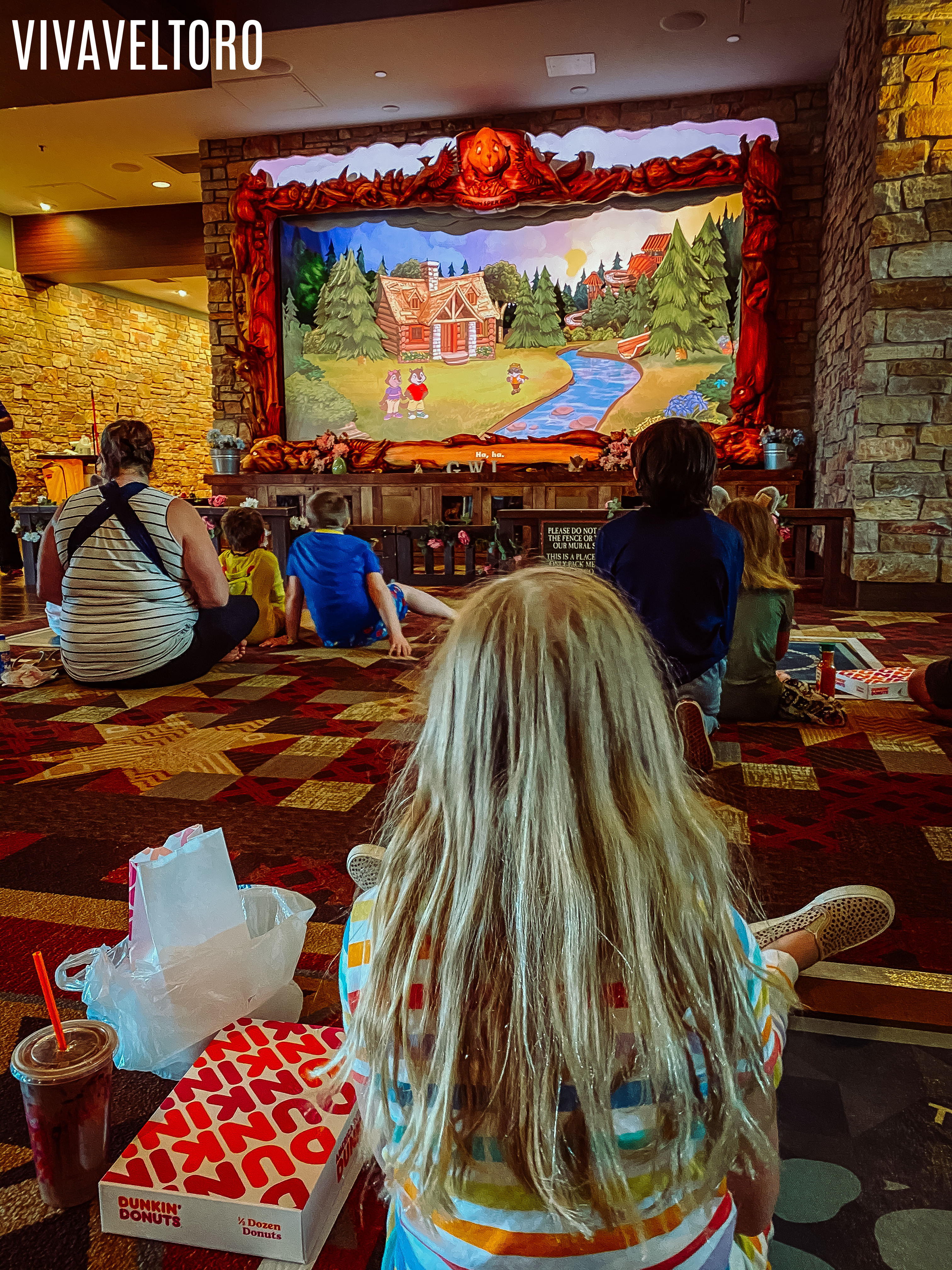 I can't reiterate enough how nice it is to have dining options on-site at Great Wolf Lodge. The convenience can't be beat and the prices are comparable to nearby restaurants and fast food. Plus, we've never been disappointed in a meal; they have options for everyone!
Additional Amenities at Great Wolf Lodge
If you thought Great Wolf Lodge was just a waterpark, think again! Along with the free kids' activities throughout the day they also have a variety of on-site amenities that are a blast for kids and adults alike.
We can spend hours playing MagiQuest at Great Wolf Lodge. You purchase a wand and a virtual game, and then travel throughout the resort doing quests and finding items that are saved to your account. It's like a video game that incorporates a ton of physical activity; a win-win! At the end you battle a dragon and I legitimately think my husband has as much fun with MagiQuest as the kids do.
Our kids also love Ten Paw Bowling at Great Wolf Lodge. It's like regular bowling but with smaller balls that make it easier for littles. You can choose traditional bowling or silly versions that use photos of the players between each round; we always have a great time and laugh a lot when we play!
The two-story ropes course is also a huge hit! This is the first year Lincoln has been tall enough to give it a try, and he absolutely loved and excelled at it. He needs to go with an adult so my husband took him (heights aren't my thing!) and Harper was able to go on her own. The staff are very helpful to kids and want to make it a good experience so they give assistance as needed. There's no time limit on the ropes course and my kids spent almost an hour exploring and trying out each obstacle.
They also really love the rock climbing wall! This year Lincoln made it to the top and Harper was as close as she's ever been. When I say that Great Wolf Lodge will physically wear your kids out, I'm not joking! I think it's so great that they have all of these options in addition to the waterpark, and having all these amenities means that it's never crowded in one area.
Oliver's Mining Company is a huge hit for any kids who love rocks (and mine do!). You get a sifter along with a baggie of sand and gems that you get to "mine" for - it's fun for both younger kids and older ages. Honestly, it's even fun for me to see what rocks they end up with and you get a sheet explaining all of the different types. Our kids got obsidian this time and if you're a Minecraft mom you know how exciting that was for them!
The candy shop at Great Wolf Lodge is always a big hit for our kids; with current restrictions the staff will fill your cups with up to four types of candy. Just seeing our kids' eyes widen at the huge wall of treats is fun for me as a mom! We ration the candy out over our stay and the coming weeks - it's amazing how much they can fit in those tiny cups.
There's a Build-a-Bear Workshop on site and while we don't always get a stuffed animal, this time we did! Harper and Lincoln were so excited to pick out their own new stuffy. Even though we have a million stuffed animals at home, I love that they always remember where each one came from and why it's special.
The kids absolutely love the Great Wolf Lodge Arcade during our visits, too. We buy a card with a set amount of points and let the kids go crazy doing their favorite games. They have a great time and learn about rationing their points. Then they get to use their winnings to choose prizes!
Lincoln tried out a claw game because he is obsessed with Baby Yoda; I thought there was no chance but he snagged one on the first try! He was so excited and carried that little guy around the rest of the trip.
You may be wondering how much these extra amenities cost because aside from the free activities there are charges for them. What we do, which saves us a ton of money and gives our kids the opportunity to experience everything, is purchase one of the passes offered by Great Wolf Lodge. They have a Pup Pass, a Paw Pass, and a Wolf Pass that include various activities throughout the resort. The Pup pass is best for little ones, and the Paw Pass and Wolf Pass are best for children, teens, and families. You can purchase those before your stay or on-site.
We usually get the Wolf Pass, which includes all the amenities I mentioned above except for the Build-a-Bear Workshop. If you do all of the activities, it's a HUGE savings and is 100% worth it. You can also purchase additional add-ons including birthday packages, dining packages, and more.
It's only been a couple weeks since our staycation, but our kids are already begging to go back! Summer is a great time to visit Great Wolf Lodge; they have major deals (currently up to 50% off your stay!) and it's a safe, entertaining place to stay. We make so many fun family memories and we try to visit at least once a year. Even if we didn't have one so close, we'd definitely take a road trip to one because it's worth it! During our stay we never leave the property because anything we could need or want is on-site. We can't wait for our next stay!
Check out all of Great Wolf Lodge's current deals and offers, and find a location near you for your next summer trip! Plus, check out 9 Things You Shouldn't Miss at Great Wolf Lodge!
Disclaimer: I was hosted at Great Wolf Lodge to facilitate an honest review and share our experience. As always, all opinions are my own.