If you're planning a trip with your toddler or even just headed to church on Sunday, you might be interested in creating a DIY quiet book to take with you. Quiet books can keep your child busy and quiet for hours!
If you have a family of young kids, you know very well the hair-pulling stress of trying to keep them quiet for a given amount of time where you're among other adults also trying to keep their focus, whether this be at church, in a meeting, or on an airplane. My mom put together quiet books for me when I was little, but the things I've seen lately when it comes to these adorably assembled activity books are unreal. If you feel like getting your craft on, I highly recommend putting together quiet books for your kids, and I've picked out some of my all-time favorite pages! I'm guessing that if you made a book of these 10 pages, you'd be set for hours on end!
Before you get started, here are some product you might find useful for making your quiet books:
Brother LS2125i Easy-to-Use, Everyday Sewing Machine with 10 stitches
Quiet Book Patterns: 25 Easy-to-Make Activities for Your Children
DIY Polyester Felt Nonwoven Fabric Sheet for Craft Work 40 Colors Squares 11.81x11.81inch
Vastar Hot Glue Gun with 30 Pieces Melt Glue Sticks Melting Adhesive Glue Gun Kit for DIY
QingHan 40yd (20x2yd) ⅜
Blumenthal Lansing Favorite Findings Basic Buttons Assorted Sizes, 130/Pkg, Citrus
Best DIY Quiet Books Pages
1. The Quiet Book Feature from Sugar Bee Crafts
This lady had the genius idea of doing a Quiet Book Exchange, where everyone made duplicates of their page(s) and then they shared to make a complete set of 18 pages. Pure genius. Every page is adorable, but I really love these clothes on the line!
2. Sock Matching Quiet Books Page from Imagine Our Life
Darling! I love how this teaches matching, and what kid is not already enthralled with the dryer?
3. Paint Pallet from Serving Pink Lemonade
The paint splotches are removable with velcro, then your child can pretend to paint all the other pages in the book!
4. Activity Book from Bubbles & Bobbins
What a fun weaving activity! I love the simplicity of these pieces and the novelty of playing with felt food.
5. Felt Weather Station from Imagine Our Life
The older kids would LOVE this! I know my toddlers are fascinated with the weather, and updating it as it changes.
6. Car Page from Sunshine, Lollipops, and Rainbows
Oh, that cute little felt car!
7. Quiet Books for Boys from All the Quiet Things
There are more uber cute ideas for boys in this book! Check out the tool box!
8. Quiet Book from The McAdams Family
Having magnets attached to the pieces makes this a whole lot more fun than other fishing pages I've seen!
9. My Momma's Quiet Books by Sawdust & Embryos
Oh, those cute sprinkles!
10. Tic Tac Toe from How Does She
This idea is great for entertaining two kids with one book, because you know there is going to be some serious sharing issues going on with this kind of entertainment!
If y0u need a quick solution, check out these quiet books on Etsy: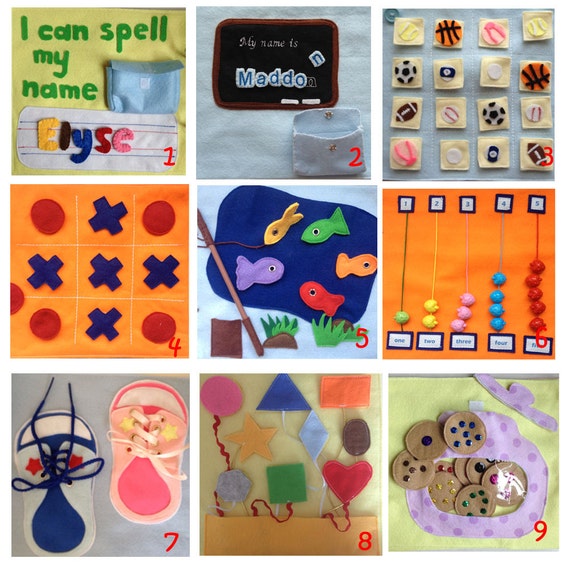 Personalized Felt Quiet Book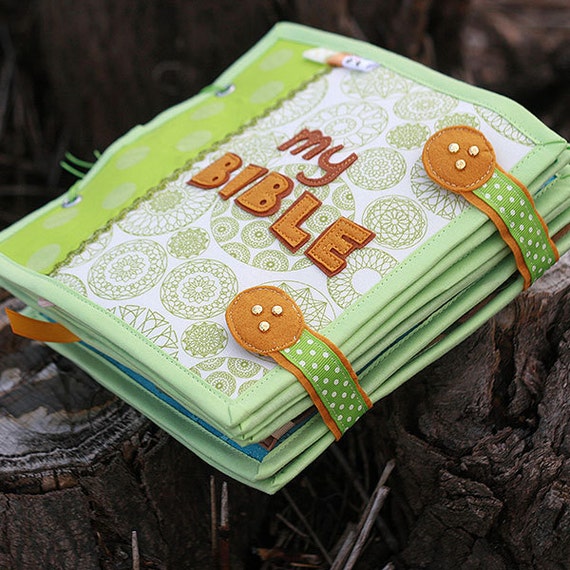 Bible Stories Quiet Book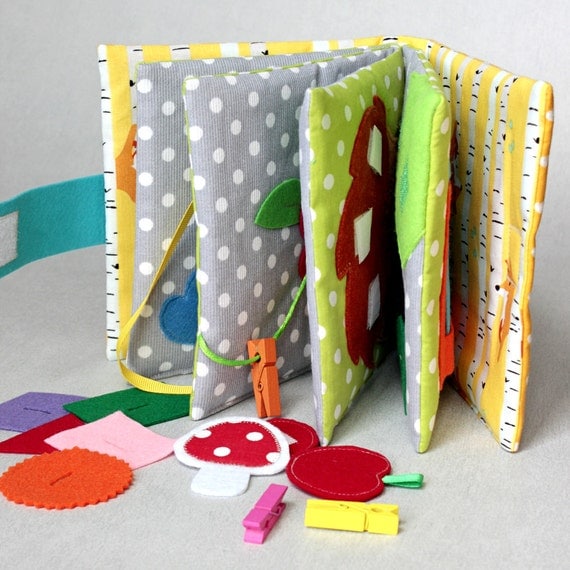 Toddler Quiet Book

Are you motivated and inspired?!
Get to work on your new quiet books, and share your favorite page ideas below!