Do you want to give your bedroom a new look? We'll show you how to make an easy DIY platform bed frame with step-by-step instructions.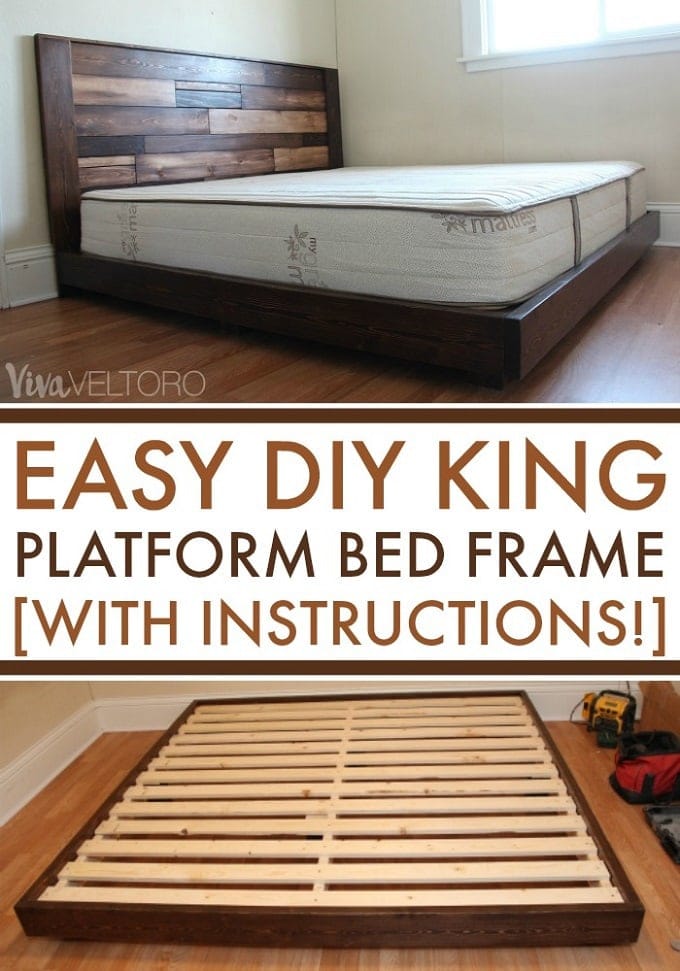 How to make a platform bed frame
We recently got a new mattress and decided it was time to upgrade from our box springs to an actual bed frame. However, when I started looking at prices for a wooden platform bed (my dream!) I decided it would be much more affordable to make our own. And so began our foray into making an easy DIY platform bed frame!
I honestly didn't know where to start, so I looked on Pinterest for some guidelines. I found this gorgeous bed and thought it would be the perfect starting point for our project. We modified a few things as we planned out our own bed frame, but that was a great guide for us to begin. Our new mattress is 79x75 so we planned our dimensions around that, but you'll want to measure your mattress before you begin. It's important to note that we have our mattress sideways so it's 79" wide and 75" long. If your mattress will be longer than it is wide, you'll need to switch the dimensions. We did this because we co-sleep and needed a few more inches for the extra bodies in the bed!
DIY Platform Bed Supplies
4 - 2x6x8 Pine Boards (outer frame)

4- 2x4x8 Pine Studs (inner frame)

3- 1x4x8 Pine Boards (slats)

1 - 4x4x8 Douglas Fir (legs)

Box of 2 ½ inch screws

Sand paper- Fine grit for sanding between poly coats, coarser for sanding the outer boards (we used 320 and 220, respectively)


Other DIY platform bed necessities:

After making a list of supplies, we headed into town. Let me tell you, it's SO fun to pick out perfect wood pieces while your kids are climbing around like they're at a jungle gym (not!). Luckily we were able to find most of our supplies at one store. We did have to make a special trip for stain, but we loved one specific color so it was worth the extra stop-Walmart was the only place we could find it locally. Click here for a printable list of supplies and tools you'll need.
Starting the Platform Bed Frame Building Process
A few tips before we get into the instructions. When picking out boards, look for perfectly straight pieces. It took us about an hour to find the lumber for our frame because we didn't want bowed boards or wood with too many large imperfections. Also, don't buy treated wood! You don't want to sleep on that stuff every night.
Make sure you measure your bed to get the correct dimensions, as not all king-sized beds are exactly the same. Our inner frame is 79 inches wide by 75 inches long, and our slats are cut to 79 inches. You could definitely modify it to make a smaller frame also! Before cutting, double check your measurements. My husband is great at constructing things, but even he cut one board too short (extra trip to get another board, check!).
Final measurements for all boards:
Thirteen Slats: 79"
One 2x4: 79" (Inner frame footboard)
Three 2x4: 75" (inner frame length and middle support boards)
Two 2x6 (for head and foot of bed): 81 ⅞"
Two 2x6: 76.5"
Eight 4x4 feet: 6"
Cutting the boards
After cutting down the outer frame boards, use a power sander to get rid of any stamping or imperfections. This process took longer than we expected because we did buy the cheaper pine boards. If we did it again, I'd shell out the extra cash to get smoother boards! Then cut the inner platform bed frame boards, slats, and legs. If you want to sand the inner frame or legs you can. My motto is 'work smarter, not harder', so we didn't. The boards we bought for slats were fairly smooth but we did sand the tops a bit where the mattress will sit.
After sanding the boards (big thanks to my husband for that!) it was time for staining and finishing with polyurethane. Our garage isn't heated so I had to do this in our basement which was not ideal. The ceilings are much lower than a garage ceiling and I wore a mask since it's certainly not well-ventilated. But, it worked fine! I did one coat of stain on each outer 2x6 and the legs and three coats of polyurethane.
You'll have a bit of dry time between coats. I let the stained boards sit for 24 hours before applying the polyurethane. We bought quick-drying poly so I probably could have done a coat every 2-3 hours. However, I waited 24 hours between coats just to make sure we had the best finish possible. My kids are hard on things 😉
DIY Platform Bed Assembly
Assembly took less than two hours which I felt was comparable to the time it would take to put together any other bed frame. It went together fairly easily with the assistance of two little helpers!
We framed up the inner 2x4s first, and then screwed the legs into those. The legs and 2x4s are flush at the tops.
We chose not to have an inner 2x4 at the head of the bed for a couple of reasons. First, we didn't want the platform bed frame to be any farther from the wall than it already was going to be with the 2x6. One of my biggest pet peeves is losing my pillow behind the bed! Second, we didn't feel it would add much for structural support besides weight, so we skipped it.
We screwed the 2x6s into the 2x4s with 2 ½ inch screws and the bottoms are flush. The slats sit on top of the 2x4s, but I wanted to show a close-up of this so you could visualize it. We did three screws between each foot, drilling pilot holes so the wood didn't split.
Adding the slats
Our little gymnasts took no time testing out the bed frame before we put the slats in! We chose to keep our slats 2.5" apart. The mattress we were getting recommended no more than 3 inches between slats for support. We laid out the slats, measured 2.5" between them, and screwed them into the 2x4s.
I was so excited to see our things coming together! I haven't done any woodworking since middle school (a LONG time ago!) and I was a little nervous about how things would go. Our DIY platform bed frame really didn't take much time and was WAY more affordable than purchasing a pre-made equivalent.
We spent less than $100 on the wood, stain, polyurethane, and screws. Plus, we have over ½ the cans of stain and polyurethane left for other projects.
After we finished our platform bed frame, we decided to make a headboard too! Check out our tutorial for our DIY wooden headboard, which cost less than $50 to make.
We're loving our new bed, and I would absolutely recommend making your own platform bed frame and headboard if you're considering it. It wasn't difficult, and I'd say the results are worth the work for sure! The bed frame feels very sturdy. We assembled it in our room because it wouldn't fit through the door frame otherwise, so just a tip in case you have small doorways like we do! If you're curious about our mattress, it's a Natural Escape from My Green Mattress and it's SO comfortable.
Our room is really coming together now with our bed, mattress, and new bedding from Cariloha. It's MUCH improved with our new DIY platform bed frame and headboard. I wish I'd taken a before picture with our old box springs so you could see the difference! We've really gotten the DIY bug now, and are dreaming up all kinds of things we want to build next. Click here for step-by-step instructions on building a bed frame!
What do you think of our DIY platform bed frame and headboard?
I'd love if you'd share your thoughts with me in the comments!